A Wise Woman builds her house.
But with her own hands, the foolish one tears hers down. 
PROVERBS 14:1
Have you ever noticed that women have had the same complaints about men for more than a century? 
Do you wish your husband would ...
Not work so many long hours or watch so much TV? 
Spontaneously help out more around the house? 
Share his thoughts and dreams with you?
Take better care of his physical health?
Spend more quality time with you?
Always consider you first?
Be more romantic?
Instead, what if this were true about your marriage?
🌷 I am my husband's first priority. 
Before he does anything, he considers how his decisions will affect me. He checks in with me, not to get my permission, but to get my input. I have no trouble submitting to his leadership because I know he always has my best interest at heart. 
🌷 He adores me and tells me so on a daily basis. 
He cannot take his eyes off me. He is totally fascinated by everything move I make. He is endlessly enchanted by my presence. All I do is show up!
🌷 He respects my feelings. 
He knows how and when to offer comfort and connection. He listens to my story without jumping in to fix anything. He considers my input. He even asks for it before I can offer any suggestions.
🌷 He is my knight in shining armor. 
He protects me from everyone and everything, including my own potentially self-destructive thoughts and behaviors. Somehow, he does all that with incredibly tender-loving care. He never shames me, puts me down, or walks away from my plea for his help.
🌷 He provides for our family, willingly carrying the responsibility. 
He needs my support in the process, of course, because he is neither invincible nor tyrannical. He is beautifully human, and I am grateful for his wisdom – financial, emotional, intellectual, practical. He is a wise man, growing wiser as the years go by.
🌷 I can count on him to help me figure things out. 
But I can also tell him I just want to share – to process something important – and be confident that he will listen and love me without judgement. 
If that's not your experience, you're not alone.

I'm passionate about helping you apply your biblical values and the findings of scientific research to your everyday life.
To understand my passionate desire to see you succeed, you need to know this about my love story. 
It started like this ... 
I was born a blue-eyed blonde who was the apple of her daddy's eye. But shortly before I turned 3, my mom packed her friend's car with some essential belongings and left town with my older brother and me ... while my dad was at work. He had no idea what was coming. None of us did. 
We were always safe, and Mom took very good care of us. But for most of my life, I experienced a haunting loneliness that I couldn't explain and didn't understand until more than 37 years later. 
My mother kept me from my father. 
She had been abused as a child, and she was very confused about men and their behavior. She adored my three uncles, but didn't trust any other men, including my dad. 
So she poured herself into being a mom and helping others. A very creative woman, she spent her days cooking and baking and sewing beautiful dresses for me with all kinds of ribbons and bows. How I loved to dress up! 
But life wasn't simple, and most lessons were painful. 
Being from a divorced family was much more unique in the 1950s than it is now, and apparently something for a child to be ashamed of. 
I didn't realize that until my Bluebird Troop visited our local radio station when I was 7. The announcer engaged in a live interview with each of the girls. I was so energetic – all twirls and smiles – and so excited to get to be on the radio. 
When the man came to me, he asked the same questions he had asked of the others, but there seemed to be something very wrong with my answers. 
"What's your name?" 
"Debby"
"What does your daddy do?" 
"Oh, I don't have a daddy." 
The expression on the nice announcer's face changed drastically, and he quickly removed the microphone from in front of me and started talking to the next Bluebird.
I was immediately flooded with an overwhelming sense of shame. 
It was clear to me that I'd said something terribly wrong, but no one told me what it was. And I was too afraid to ask. So I filed the experience away under an enduring belief about myself: "There's something drastically wrong with you, but no one will tell you what it is. No one will give you the slightest clue. You'll have to figure it out for yourself." 
I've never forgotten that day, 
nor the sadness of my dad's absence.
In my little-girl mind, he'd left me for unknowable reasons, setting the stage for my belief about my perceived faults and my conclusion that I would always end up alone.
What you believe about yourself is powerful.
Still very unsure of myself, I married at 18, the summer after my 18-year-old husband's first year of college. I worked as a claims processor. He worked part-time and went to school for the next 3 years. 
Six weeks after he graduated with his bachelor's degree, our first son was born. We moved away from our families and had two more sons. Life was good. 
He got promotions, and we moved two more times. 
Then after 15+ years, my husband unexpectedly announced he didn't think he want to be married anymore. 
Needless to say, I was devastated. 
A hot mess. I'd been a stay-at-home mom for more than a decade, and we'd just moved to a city where I didn't yet have solid friendships. 
Suddenly I had to find a job ... and a babysitter. 
I wasted so much energy trying to make a beautiful marriage.

No one told me there was an easier way, much less pointed me in that direction.
 
What I learned changed my own life ... after the fact.

Would it have helped change the outcome for my first marriage?
I don't know. But I still wish I'd known then what I know now.
I created this for you! I don't want you to go through what I did. 
By this time, I had collected enough evidence to build a strong case against men.
But I had three boys to raise. Alone. 
And they were still pretty little when their dad left.
I needed to find a way through for them.

I wanted to do all I could to help them grow up, to become healthy men. I determined to become the best I could be myself. 
I didn't do it perfectly, of course. I still had a lot to learn about men. But I did my best. 
I found a full-time job as Receptionist for a group of family physicians. 

My next job was Marketing Assistant for an avionics manufacturer. I learned to fly airplanes while I was there, which also elevated my aspirations. 

Then I got an even better idea: I could still fulfill a dream I thought was lost. 
When I turned 40, I started college. 
I earned my Bachelor of Arts, Master of Arts, and Doctoral degrees back-to-back. Because of my boys, my primary focus throughout my studies was The Psychology of Men. I even wrote my Doctoral Dissertation about Mothers and Sons. 
The Psychology of Men and Marriage

With one goal in mind, I studied for 11 1/2 years to earn my degrees. Then, as a Clinical Psychologist, I had the privilege to work with men and their wives in Southern California for more than two decades. Men themselves revealed the truth about their experiences, and I learned so much from them. And so did their wives! 
Can you guess which couples improved their marriages the most? 
In general, when the wife was open to learning from and about her husband, things changed rapidly. If she stayed in default mode, however, they remained stuck. 
When you know the truth about men, you understand why that is. 
In short, the woman often holds greater power in the relationship. She usually doesn't realize how easily she can wipe him out, leaving him emotionally powerless. 
Don't get me wrong here. 
I'm not saying you are responsible for everything. His choices are still his to make. But you are responsible for learning how powerful a woman's words are in a man's life.
What Women (and Men) Have Loved About Working With Me
"Dr. Debi helped me see that I had expectations for my husband based on my own expectations for myself. I expected my husband, who is mentally wired differently, raised differently, processes differently, communicates differently and is even biologically built differently, to act like me, a female. Once I was able to realize those differences, I was able to listen and learn what HE needed from me instead of what I thought he needed. This new outlook opened up new conversations which have led to a level of depth that neither of us knew existed. We are extremely grateful to Dr. Debi for showing us the tools we need to love each other, respect each other, and take care of each other in the way that Christ intended us to."
Emily
"Marriage – like dancing – is so much sweeter when partners are in sync. Thank you, Dr. Debi, for providing a fun, informative evening filled with insight into the men in our lives and ways to improve our relationships. I only wish I had been aware of these simple tools years ago. It would have made the bumpy dance floor of life so much smoother!"
Marilyn
"I've been telling so many women how your seminar & book saved my marriage. I'm so excited to share this life changing info with all the women in my life."
Lisa
"I thank God for leading us to you and your sincere, knowledgeable and anointed spirit and teaching! From you, we've each learned a lot about each other, about communication, and in better understanding each others' emotions. More importantly, I believe your teaching (and your "person") has been instrumental in each of us strengthening our relationships with God (most importantly, my Husband's). We cannot be thankful enough for you saving our marriage (would seem almost impossible to most), and also to restoring it to much better than before the separation! We love you."
Jackson & Chalaun
"Last fall, we were ready to call it quits. We fought constantly. But because of your great contribution, we had a wonderful anniversary celebration this weekend. We are enjoying our marriage! And we are thinking of you with full gratitude. Thank you so much, Dr. Debi."
Tim & Lacy
"My wife and I are so appreciative to have found Dr. Debi. We had been going on an off for years with many different therapists and techniques. Nothing compares to the approach that Dr. Debi provided. I had always found it hard after previous therapy sessions to remember the guidance. It seemed so complex and elusive to embrace. Dr. Debi gave us direct and instantly useful advise. She laid an impressionable foundation that helped me see how much love my wife and I had for each other in a way that was consistent and tangible. She taught us to recognize the critical moments that caused caused us so much pain. Thanks to Dr. Debi we now have 'tools' to battle the rampant miscommunication that had plagued our relationship. I will be forever grateful."
Andrew
"My wife and I saw Dr. Debi after being married for 23 years and she brought us back from a place where, in my opinion divorce was inevitable, to a loving, caring, more understanding relationship. I've since learned how to communicate better, be more patient, and realize that the two different backgrounds we both were raised from has a huge impact on how we deal with things today. Dr. Debi is amazing how she's able to translate what a man is trying to say/tell his wife and have it make sense. She has an extraordinary insight on men and how they speak and what they need in a relationship. After seeing Dr. Debi I feel much closer to my wife and realize she's the most important thing I have in my life, and I will protect her to my last breath. Thanks again Dr. Debi."
Jeff
"Dr. Debi is amazing! She is caring, understanding and highly educated. She has been given a gift of being able to understand men and provide tools for them to communicate their thoughts & feelings in a way that women can understand. It's remarkable. She is objective and wants your marriage to be successful, she wants you to be madly in love and she is able to provide the tools to get you there. She was able to bring us back from honestly what both my husband and I thought was an inevitable divorce. We are truly happier and more in love than we have ever been in our 23 year marriage. We are so very thankful for Dr. Debi – she is a gift from God."
Mrs. Jeff
For every man since Adam, it's all about the girl. 
PSYC495 Psychology of Men and Masculinity
I first developed a course on The Psychology of Men and Masculinity when I taught at Azusa Pacific.
My students were eager to discuss. Before I could explain the syllabus and course requirements, they were already asking questions about the male sex. 
The women were surprised to hear the truth about the men. 
The men felt understood ... and vulnerable.
"I am 23 and i can tell you why men fear women, women are really wonderful and we are afraid to screw up you know like that afraid of something that seems to good to be true and at the same time is alive and talking to you. God really knew what he was doing just think how Adam reacted Genesis 2:23 'This is now bone of my bones and flesh of my flesh' this was basically a gasp of amazement at God's work." 
~ Will (College Student)
Suddenly you realize: It's all about the girl!
Then God said, "It's not good for the man to be alone." GENESIS 2:18
That's why A Wise Woman's Guide begins and ends with you! 
You are the Wise Woman. Brave. Confident. Focused on finding Goodness in life.  
Biblically-sound, research-based, practical, personal development guide

to realize and release your feminine power to inspire, influence, and invite 

to get what you want without manipulation, drama, or standing on your head
Because every woman needs to know the truth about men! 
Most of the couples I have worked with, even in my former Clinical Practice, were reasonably healthy individuals. 
About 75% of men and women could develop new thoughts and behaviors. 

They needed to unlearn what they believed that wasn't true about their mates. 
When you know what a man thinks, how he feels, and why he does what he does (instead of what you think he should do), he starts to make more sense to you. 
You have a much better idea about how to inspire and influence him. You are better equipped to help him become the man God had in mind when he was created. 
Knowing the truth about men's makeup and life experience can also help you decide whether he really is unhealthy or he's just different than you. Mostly, it's the latter. 
I can imagine what you're thinking now. 
You're probably saying, "I already have a long List of stuff I have to do! Why should I have to change anything? Why can't he just take responsibility and step up?"
I get it. Every woman has a list. 
I have one, too. It runs in our heads constantly. We add to it, reprioritize, and - if we're having a good day - we get to cross a few things off. 
Our minds never shut down. 
We lie awake thinking about all that needs to be done. 
But what if your husband would spontaneously help?
When I ask women what they want from their husbands, this is usually at top of their list. "I wish he'd help more around the house." 
I've also heard women say, "He is like having another teenager in the house. I have to tell him what to do, or nothing gets done. Even then, he only does it half-way."
No wonder so many women are so frustrated!
What if there is an Easier Way to get him involved in running of the household? 

What if an Easier Way takes a lot less effort on your part?

What if an Easier Way really is the easier way?
Are you getting what you want? 
If not, a Wise Woman knows it's time to change direction. You know where you want to go. You've just been on the wrong path to get there. You can do this. In fact, you're created to be confident and to influence your husband for the good of the World! How? 
"Get wisdom, get understanding;
     do not forget my words or turn away from them.
Do not forsake wisdom, and she will protect you;
     love her, and she will watch over you.
The beginning of wisdom is this: Get wisdom.
     Though it cost all you have, get understanding.
Cherish her, and she will exalt you;
     embrace her, and she will honor you.
She will give you a garland to grace your head
     and present you with a glorious crown."
PROVERBS 4:5-9
Find the Easier Way, seeking Wisdom step by step. 
First, discover

The Beauty of 10. 

Second, explore and navigate

The Two Rivers of Change.

 

Then learn

The Truth about Men

and your affect on them.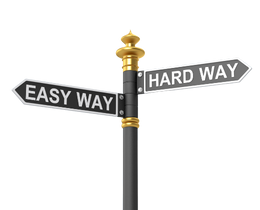 Even with a solid framework, questions and concerns are natural. 
"Yeah, but my situation is different."
"How does this apply to my man?"  
"What about ______ or ______?" 
We can talk about all that, too. Remember, I'm here to help.
I don't want anyone to go through what my family did. 
What I learned about men has changed my own life. And I've helped countless other women improve their relationships with the men they love. 
Would it have helped in my first marriage? 
I don't know. But I still wish I'd known then what I know now.
I spent so much time and energy trying to make a beautiful marriage. No one told me there was an easier way, much less pointed me in that direction.
You have the advantage of Wisdom I had to discover on my own!
In case you're wondering, 
I did fall in love again. 💕
With the most beautiful man I've ever known. He didn't think, feel, or act like a woman either. Thank goodness for that, right? So I have had the opportunity to apply this wisdom in my own life with amazing results. 
Which proves it's never too late!
My approach is not just a theory. 
It actually works! But you can't just apply techniques. That would be manipulation, not love. 
You must understand the reason this works so you can apply what you learn with Wisdom.
Wisdom means an investment in your future.
🌷 Learning this doesn't have to take years or cost a ton of money. 
You don't need to earn Bachelor's, Master's, and Doctoral degrees and open a Clinical Psychology Practice to learn what I have learned. I want to share it with you in a fraction of the time it took me, and with a minimal financial investment. 
🌷 Practical knowledge you can use in everyday life. 
You may not need, want, or have access to individual or couple therapy. But you can still learn. A Wise Woman's Guide is biblically-sound, research-based, practical, and founded on a Personal Development model.
NOTE: If you're in therapy with or without your husband right now, that's great! I am a firm believer in psychotherapy. I wouldn't be the woman I am today without it. 
You can still learn, right? 
Your therapist likely encourages you to read certain books. Then you work on applying what you learn. So why not add A Wise Woman's Guide to your database, too?
Enrollment Benefits and Features
---
🌷 Instant encouragement and practical advice 
🌷 Work at your own pace 
🌷 Dozens of video lessons 
🌷 Exercises and experiments to try 
🌷 Download checklists + workbooks
🌷 Three live trainings each month: Answers to student questions
🌷 OPTIONAL: Learn on-the-go mobil app (Apple or Android)
What's included in Class enrollment?
Monthly Enrollment can be cancelled anytime. Yearly & Lifetime Enrollments include more Classes + higher levels of personal attention.
---
Monthly Enrollment: $49 / month
3 CLASSES. Live Trainings + Student Conversations. 
This is a great place to begin.
The Psychology of Men 
Your Romantic Attachment
The Truth About Love (Audio download to keep!)
---
Yearly Enrollment: 🤍 BEST VALUE! $499 / year
5 CLASSES + Live Trainings + Student Conversations 
+ One Individual or Couple Evaluation with a 60-Minute Consultation
The Psychology of Men 
Your Romantic Attachment
Your Guide to Biblical Romance (w/Audio Download)
How to Get What You Really Want
How to Resolve Couple Conflict & Create Connection
Once Yearly Relationship Evaluation + 60-minute Consultation

$500 VALUE!
NOTE: Payment Plans are available at checkout.
---
Lifetime Enrollment: $2,999
8 CLASSES + Live Trainings + Library + Student Conversations 
+ ONE 12-week Individual or Couple Coaching Program
The Psychology of Men 
Your Romantic Attachment
Your Guide to Biblical Romance (w/Audio Download)
How to Get What You Really Want
How to Resolve Couple Conflict & Create Connection
Mothers and Sons: The Impact of Maternal Attachment on Boys' Emotional and Social Development
One 12-Week Coaching Program for Individual or Couple

$3,000 VALUE!
NOTE: You must submit the Free Application before enrolling. Payment Plans are available. 

---
Questions about A Wise Woman's Guide?
Just click "Contact" in the menu above. Remember, I'm here to help.
Ask for a reminder when enrollment opens. We'll add you to our list of prospective students!
DISCLAIMER: The information provided herein is for educational purposes only. It is not intended to replace a professional evaluation or treatment for emotional and relational concerns. If you are experiencing severe distress or believe you may be a victim of domestic violence, please contact a licensed mental health professional for assistance. If you are experiencing a life-threatening emergency, please call 911 or go to the nearest emergency room.